9 Important Points of Swimming Pool and Waterfall Construction
Waterfalls for Swimming Pools & Gardens
Residential & Commercial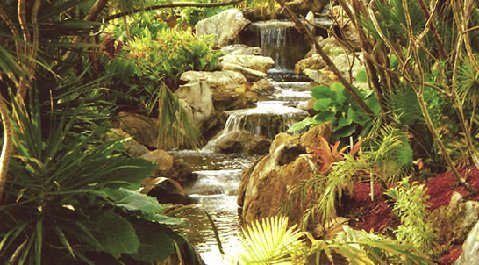 ---
Check out this video showing transformation from start to finish of New Construction Pool with Real Rock Waterfall and Slide.
Adding a 'Resort Style" Waterfall & Landscape to an existing Swimming Pool
If you're building a swimming pool with a waterfall, especially a waterfall with a slide; important things you should check / know before you sign up with a pool builder (or before the job is complete)
Check Out Our Waterfall & Fountain Gallery - Click Here
9 Important Points of Swimming Pool Waterfall / Slide Design & Corresponding Pool Construction
Introduction
Universal Landscape, Inc. does not build swimming pools, but over the decades we have worked with many who do. We are an award winning company that specializes in landscape & waterfall design & installation, and have worked on multitudes of new pool jobs for clients built by numerous different pool companies.
In the pool industry there are some pool companies that do provide in-house construction of waterfall and slide projects, while many hire out to other companies, like us, to build them for their clients. In this role we have seen many common oversights and mistakes by pool companies – which simple knowledge and planning foresight could have helped many customers & builders avoid.
While we hope that you would consider our company for a consultation and your waterfall project, there is also a hope here that by our experience and providing some points to look out for or we may be able to help to improve the experience for some, in any region, looking to add what can be one of the most dramatic and appreciated type of projects added to a home or commercial property. Waterfalls can truly alter the look and feel of any property, setting a tone and atmosphere that is hard to match with any other outdoor feature. As some clients have said "They can change a lifestyle setting".
There is a cream of the crop in any industry and pool building is no different.
Some pool builders may have talented in house crews that build beautiful waterfall features. Most do not. To the majority of pool builders, the focus is the pool and to do what they can to lock down that sale. Some pool builders who may say they build waterfalls for swimming pools may seem like a good choice to deal with from a point of convenience. A one stop shop. Sadly we have been called in to finish off the landscaping for many pool waterfall projects, and for a lack of knowing what was available we've seen many clients spend top dollar, more than we would have charged for a bigger or more beautiful feature, and received a mound of fake or real rock with little artistic value compared to industry standards. The best we can say is to shop around. A specialist like our company can ensure focus is on delivering a quality waterfall, as well as help to be an extra set of eyes and ears to help ensure your pool builder is not making some mistakes in the pool engineering & construction to prepare for that waterfall (and slide if applicable).
The tips and points listed below may provide some valuable insight to anyone choosing to build a swimming pool with a waterfall, a swimming pool with a waterfall and slide; and some points to check if you are building a pool even without a water feature. We hope to help any from avoiding costly mistakes, as with our clients, your waterfall is our specialty and priority. (Added bonus : as a landscape design & installation company we also keep the landscape and lighting in mind the entire time, to help complete the desired scene)
1) Pool Design & Engineering
In our work with pool waterfall construction, we have been brought in by clients at every stage of a project. Some are looking to add a waterfall or slide to pools that have existed for years. Some clients decide to have a waterfall built after the pool is already mid-way or towards the end of construction – while others call us first while they are still thinking of the conceptual design of the pool and have yet to hire any pool builder.
When engineering a pool with a waterfall, the basic points to consider all stem from the desired look, and then to make sure it works within the permittable space provided. Another point to look for before submitting for the pool's engineering is to keep in mind that the decking or patio space will also work functionally to suit your lifestyle or spacing needs.
Many times we will provide a conceptual design for clients for the layout of the swimming pool, with a design that fits the description of the desired waterfall (and slide in those cases.) From this point we have often served as a consultant, with an included free service to help evaluate the pool plans and pricing for our clients as pool companies are considered. We do this to help make sure the engineering plans of the pool meet the requirements for the size and shape of a waterfall and especially the desired water flow strength. We can help our clients collaborate with pool engineers, or work directly with your chosen pool builder. If you are looking to have a waterfall feature built, you can consider us as a backup to check that certain aspects are included in the important engineering phase, as they should be. One thing that should be said is that if you have already hired a pool builder, and even if work has begun, engineering plans can be adjusted if necessary and variances if required can be applied for with municipalities for commercial work or HOA's, cities & counties if necessary with residential projects
(Below we will cover some common aspects of planning & engineering that can be brushed over by some looking to hurry up and get the pool sale, or oversights from inexperience.) (Click here to go back to directory)
2) Scale of Waterfeature or Slide
To help ensure a quality waterfall project for your swimming pool, there are 2 main points to consider.
1) The look you are going for, 2) Knowing if there is adequate space available to deliver that look, so you are not misled in expectations.
These two points deal with not only the height of the waterfall feature, but also the depth of the feature, how far back the construction area or 'pan' of the waterfall can sit from the edge of the swimming pool.
The depth of the waterfall 'pan' has a great deal of influence on the look of your waterfall, and if you wish for a tall feature, or even a short one, the depth of the 'pan' will affect the look. This point is good to check when going over your engineering of the pool layout, to make sure your feature has the room and depth to be built to its potential if spacing allows. An experienced waterfall contractor should know exactly how many and what size the cascade drops can be, how the feature will look from the dimensions, and should readily be able to say so. (Also, how much room there is to make each water cascade drop accentuated and artistic or if the space is narrow and it is 'crammed into' a space.) (Click here to go back to directory)
3) Making changes to the size of a waterfeature
(and potential plumbing needs) This is a point where many inexperienced builders can make a mistake. First : Decide on the height, depth and scale of the waterfall before you have the engineering finalized. (Can avoid problems from an un-observant pool builder once the project is begun. (The sales charm is one thing, the accountability in delivering a quality pool is another.) This is a point to note on how thorough your pool builder is in planning. (We can help here.) GOING LARGER : If you wish your waterfall to be made larger, two main questions arise :
a) Is there enough space in the area to create the desired look.
b) Is there a need to increase the strength of the waterflow. A waterfall can be done artistically well, well built and crafted, but if you upgrade the size of a waterfall, IT Should Always be Checked to See if Increased Waterflow is needed (Gallons Per Minute from the pump(s). Result if a water feature upgrade requires additional water flow strength and it is not checked or adjusted, the feature can have a very poor water effect, and be visibly lacking for this great feature.
c) Cost of Correction : New drains may be required to be drilled into the side of the pool and new plumbing may be needed to go back to add an additional pump and out to provide an additional waterflow source for the feature.
d) In Some cases, the first place to check is the existing pump for the waterfall. If there is a dedicated waterfall pump and a separate dedicated pool pump and you need to increase the strength of flow to the waterfall, the easiest and least expensive option may be to add a three, port valve to the dedicated pool pump, with a new line running to the waterfeature. Now you may have the strength of two pumps, and an increased ability to modify the strength.
e) If you have to add side drains to a pool, best to have it done Before The Pool Finish is Applied. After that point, the finish of a pool can be compromised and require to be redone. (Click here to go back to directory)
4) Making Changes to the Size of a Swimming Pool Slide
(and dealing with property setbacks, where applicable)
Main points to consider:
a) If you wish to change the size of a swimming pool slide, it is suggested that you do so before the waterfall is begun. The size and shape of the waterfall 'pan', upon which the waterfall is built – is best to contour to the 'footprint' and height of the slide. (The footprint of a slide is the dimensions of how much space the slide will actually require on the surface of a deck or area.)
b) WHEN DESIGNING IN A SLIDE ALWAYS : In every case, make sure that the slide is chosen BEFORE Engineering.
c) Another Important Reason to Choose the Slide before the Engineering is finished & construction begun : The placement of the swimming pool slide has set back requirements for the safe discharge of riders as they go from the slide and enter the pool. These measurements stem out from the end of the slide and are measured for adequate space from other walls, benches, obstructions inside a pool. The design of a pool should be coordinated beforehand, as choosing some slides after the pool is constructed may provide permitting problems if there is not adequate spacing for rider safety.
d) Problems with Pool screen enclosures from poor planning : Especially for those that are also building new screens for their pools at the same time. If a slide is chosen after engineering, or after a waterfall pan is designed in, it can alter the dimensions of an area because of the slide's 'footprint'. If a slide is chosen after the dimensions of a screen is measured out and permitted (especially when close to setback allowances of a property); this can result in a slide being too big for an area. If a slide chosen is unknowingly one that simply didn't fit the permitted dimensions within the screen, this would require a change in the pool layout slightly or a different slide. (NOTE : ALWAYS CHOOSE THE SLIDE BEFORE THE POOL ENGINEERING IS COMPLETE – to avoid potential problems and costly changes later.)
e) If a slide is changed and no longer fits within a screen for a lack of planning, which can occur, the first option is to extend and enlarge the screen further. Where properties have no further space available behind a pool enclosure to enlarge, the pool builder should have seen from prior planning, that the pool itself should have been placed differently on a property. (Click here to go back to directory)
5) Ordering the Slide for your Swimming Pool & Waterfall
This point is made to simply keep the pace of construction underway without a hold up. There are some large, well known and reputable pool slide manufacturers in North America, we would name S.R. Smith, Inc. & Interfab, Inc. as two companies providing many varieties of attractive slide options. Their products both can be viewed on-line, are both well established and do a good deal of business. However, at times, delays can occur or mistakes in manufacturing which can delay the construction process of your pool and / or waterfall depending on the type of project that is being done.
When a waterfall is being built to contour to the shape of a slide, that slide should be on site and available. It should be installed as part of the process of the waterfall construction. Manufacturer's can promise a one week delivery on many slides, even larger more elaborate offerings.
Two problems to avoid :
a) – Delays for a week or two, possibly longer from non-shipment issues.
b) – A problem in the manufactured product such as a discoloration in different pieces of the slide, or it simply doesn't assemble properly from a problem stemming in the molding process of manufacturing. In either case, a result can be the time waiting for the replacement slide to arrive.
Rule of Thumb : Order the slide early on in the project, with at least 3 – 4 weeks lead time, before your waterfall construction phase. Ordering the slide at the time the permit is submitted should provide sufficient lead time for the slide to arrive, and also if there are any exchanges that may need to be made in that rare case.
6) Adjustable Water Flow Strength; Port Valves or Variable Speed Pumps
This point deals with the ability to change the strength of the water flowing over your waterfall. To have the option to go from a strong cascade, to an option to have the water flowing more softly at different times. A few different ways to accomplish this :
a) – Variable Speed Pump (look for one that has the waterflow strength your feature may require, measured in GPM (gallons per minute), before you make the choice of which pump. Variable speed pumps can offer typically from 4 – 8 different speed option settings and controlled manually, switched at the pump by hand or by remote control. If you choose a remote control setting – this would need to be integrated into your pool remote control setup. We would recommend these pumps in many situations as they are more energy efficient in their settings. An energy efficient pump can help to pay for its cost over its life from the money it saves people on their power bills. Our view – Going green is a good way to go when able.
b) – Port Valve : The concept to grasp here is that if you are not using a variable speed pump, the pump is always running at its normal flow rate. The engine of the pump is running the same. If you desire to lower the waterflow, some may suggest to install a ball valve and reduce the flow of water in the piping going into the waterfall for outflow. This can overheat the pump and lead to a shorter pump life.
A non-variable speed pump, most pumps run at only one speed, and if so, they will produce a certain GPM flow of water. The way to not overheat those pumps and reduce the waterflow strength is to be able to provide an 'additional water discharge line' back into the pool. In this setup instead of one pipe leading from the waterfall pump into the pool, there is a port valve which can be adjusted manually or by remote which diverts water into that additional pipe line or secondary line, and instead of the full strength of the water going into the waterfall, some of that water is diverted directly back into the pool. This reduces the water flow strength cascading over the waterfall and does not impede the normal running function of the waterfall pump.
c) – Remote Control vs. Manual in the port valve or variable speed pump options : The manual control is as it sounds, it is required to be adjusted manually. The placement of the device to be turned on or off can be at the pump, or another desired location depending on the layout of the waterfall project and the choice of port vs. var. pump. The price for a remote with the variable speed pump or the port valve option costs more in each case for the upgrade in the cost of the automated parts required. Depending on your set up, the cost may be a minimal difference for the remote option.
d) PIPE SIZE NOTE : THE PIPING INFLOW (PIPE LINE SUPPLYING WATER FROM THE POOL) AND THE PIPING OUTFLOW (WATER GOING FROM THE PUMP TO YOUR WATERFALL) – SHOULD BOTH BE 3″ PIPING FOR THE GREAT MAJORITY OF WATERFALL FEATURES. If you have a pump supplying 180 GPM (Gallons per minute) or greater – a 4″ Piping size should be used. Again : Both the inflow and outflow piping should be 3″ size for most waterfall features. This is one point many pool builders do not realize and overlook which limits the proper water flow for many projects.
(Click here to go back to directory)
7) Swimming Pool Re-fill lines & Excess water tanks Simply put, waterfalls use waterfall and they will lose water through evaporation.
Water splashing on a rock is a normal part of every waterfall, and a portion of every drop of water that goes on a rock or water on a deck from the use of a pool slide, is water lost. In most cases the loss is minimal and hardly realized in the short term. Real rocks are also like sponges that absorb water, so water replenishment is a point of good planning. Over time, depending on a) the size of your waterfall feature (and/ or pool slide) and b) – the size of your pool or Jacuzzi / spa, the water level in the pool or spa will go down at some rate and a convenient feature to have is a 'water re-fill line'. If installed in during the pool construction, this will allow the pool levelor that goes with the 're-fill' line to recognize when water is needed to be added automatically to the pool or spa.
Without a 're-fill line' you may add water by hand, or mother nature's rainfall, to the level of your pool. Note : The larger the waterfall (and / or slide) – the more a re-fill line should be installed as part of a quality job. Jacuzzi Waterfalls : This is for those who may a) not have enough space to build a pool but wish to have a Jacuzzi, or those who simply build a Jacuzzi waterfall separate from any connecting pool.
The waterfall when turned on requires a certain volume of water to operate. From an off position, the level of water in the pool will be at a certain level, then when the waterfall is turned on, water from the pool / spa is required to provide that water flow over the feature itself. The stronger the waterflow, the greater amount of water required.
With some large resort style features, if the waterfall is long, or very tall with a strong (gpm – gallons per minute – requirement; ex. 500 gpm or greater (rare residentially) then a water storage tank that is submerged underground may be a wise part of a plan. We can explain this in a consultation if you are considering having a large feature done.
For Jacuzzi's with proportionally large waterfalls, this should be considered at the time of engineering, regardless, and the water requirement effects gone over to see if additional water storage will be a wise consideration. Example – in a small Jacuzzi – 13′ long by 6 across, with a waterfeature of 5′ tall, 7′ deep and 140 gpm or greater, you could see the water drop in this small area by 4″ – 6″ inches. The same waterfall on a 15′ x 30′ pool would be hard to detect in terms of a water drop in level. (Click here to go back to directory)
8) Decking Drainage
Always a point to consider if you are having a waterfall built with your pool or not.
The pitch or the available of drainage decking makes life much easier for people when dealing with heavy rainfall days, or simply wishing to clean off their pool deck. Can not think of a reason not to add pool deck drainage.
It is first of all relatively inexpensive to the cost of a pool, secondly convenient to help keep unwanted deck water and dirt out of a pool; can help to avoid erosion or mildew buildup on some properties. (Check our coming drainage website page for more details). (Click here to go back to directory)
9) Irrigation & Lighting Preparation
Do you wish to have landscaping around your new waterfall to make it look more natural and settled in ? Do you wish to have lighting accents in your waterfall feature to help it light up and look more beautiful at night?
These questions should be planned for before or at least during the construction of your waterfall & depending on the shape and size of your surrounding decking, before the deck is installed. By planning ahead for your landscape and / or lighting to complete the look of your swimming pool's waterfall, the proper irrigation piping & lighting conduits can be installed, inconspicuously ahead of time. This helps to ensure the health of your landscape from the irrigation & the ability to enjoy your feature more at night through planned lighting features.
We hope this article was helpful and if any are considering to have a waterfall built for their swimming pool, we hope if you are in our area of service you will consider Universal Landscape, Inc. !

Waterfall Packages

Our work building pool waterfalls is either performed at the time the new pool is being constructed or as an add on to the existing pool. Whichever it is, there is no work we perform that can help transform an area like the sight and sound of the waterfalls we add to these settings. As in a painting of a natural scene, they become instant focal points of eye catching attention. Beyond their natural beauty, many customers have commented on how the sound of the waterfall is valuable in itself. Whether entertaining or simply closing one's eyes and only hearing the sound of a natural cascade of water provides many with a sense of their own secluded oasis.
If you are considering having one built for you, we guarantee they truly are, a rewarding addition to any property. As with landscape designs, we approach waterfall construction as an art form, and nothing less. While it is an art, there are 3 main points which are a factor in every project and we will cover these points briefly here for you.
1) Quality Construction
2) Price
3) Style of Waterfall for You
(Note : Some like to have a thorough detail of information on aspects of a project – some may not. We have tried to cater to both here. The main points of interest / importance are separately noted in each section. Hope this helps.)
Quality Construction :
These are some points which should be noted, no matter who builds your waterfall.
FOUNDATION : It begins with the mind set of providing a project that is built to last.
If it is a stand alone waterfall, or if attached to a pool, the foundation and shell are the first major factors to constructing a strong, durable job. Now some pool builders may provide the shell or 'pan' of the waterfall for us when they construct the pool, some may not; regardless – every job has a fiber mixed concrete base re-enforced by rebarb steel. This is important on every job, and the larger the waterfall – the more important this becomes.
Each 'pan' or shell that the waterfall is built within is then waterproofed with a sealant. These may seem like mundane points, but they make a great difference between a professional project and an inferior job.
PLUMBING : Making sure that the proper plumbing size lines and pipe strengths are installed allow for the desired flow strengths. 'GPM' is an important point when building a waterfall. GPM stands for 'Gallons Per Minute' which is the rate of flow that water is to flow on a waterfall. As each job is custom, maybe your pool design has allowed for waterfall plumbing, but still the design and project you desire may have a different need than was originally planned. This is not a big issue to take care of, a simple and very inexpensive change when handled before hand, often at no additional cost. A mistake here, and you can wind up with a beautiful job, but the water flow is lacking and can take away from the whole project.
NOTE ON PLUMBING : With new pools – it is important that the correct plumbing intake and outflow piping is installed BEFORE the concrete shell of the pool is put in.
We commonly recommend 3″ intake & outflow piping sizes for most projects. NOTE ON INTERIOR FINISH : This rarely occurs, but if you are building a new pool, and the pool builder is proud to build one fast, within a month – and you are adding a waterfall – don't be rushed. If you are adding a waterfall, never let the interior finish of a pool be done before the waterfall is complete. A pool builder like this is not looking out for your best interests. The pool finish is the 'finishing touch of the interior' – and should be done after all construction work is 'finished.'
The Rock Used :
On the great majority of our work – we install real, natural rock waterfalls. Why ? First – they are stronger than man made rock formations. Second, faux rocks try to look real. Third, simple longevity. They don't fade, they're easy to clean, and they look natural because they are. Whatever your taste, faux or real rock, we can accommodate you. For some projects, we will absolutely suggest that faux rock is the way to go. Cost is about the same – but when dealing with a swim in cavern area or a pool project with large overhead waterfall spills to swim under – faux rock, because of its light weight, is the best way to go for safety in our opinion. NOTE : On the choice of rock – waterfalls are an art to create -and this will show through in whichever material you choose. Faux or Real – we can make either choice look beautiful and provide you with a number of different color shades or rock styles to cater to the look you may desire.
---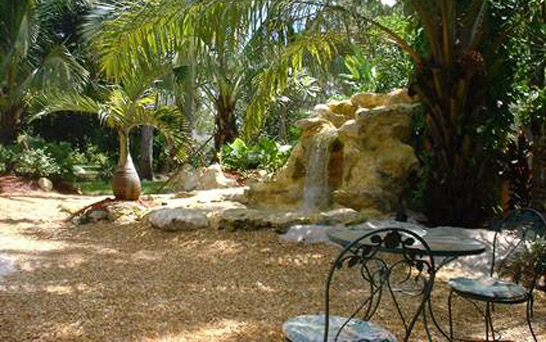 Pricing :
When it comes to price, we deal with different size pools, customer desires, and budgets – and then there are some projects where it may not be a complete waterfall some wish for. For example, some may have some rock coping around a pool and an 'Elevated Jacuzzi' with a simple spill edge into a pool, and not a 'waterfall'. We'll address the 'Elevated Jacuzzi' (Sample A), a 'Waterfall Jacuzzi' (Sample B) and a traditional 'Waterfall' (Sample C) all here.
A Basic Waterfall package begins from about $8,600 – whether on a pool or a Jacuzzi. The simpler 'Elevated Jacuzzi' including rock coping and spill edge, with boulder accents is represented in the Sample A photo.
Sample A
Set around the pool starts from around $4,200. Photo B to the right is a Jacuzzi Waterfall example and Photo C is an example of a standard beginning size for waterfalls. (As with all waterfall packages – samples B & C include the price of a single waterfall pump, which is typically requiring a 120 to 150 GPM pump. Piping should be 3″ lines for the intake and outflow.) This is the most typical starter range for most projects.
Dimensions of Sample B (Jacuzzi waterfall photo) :
Sample B
Overall top Height of top tier rock set is 5 1/2′ above the deck. Width : Total length from side to side of rock facing along the front pool edge = 14′ Depth : From pool edge to back of feature = 9′ Top Flow Height = 4′ (double thick stone cascade) Cap Rock Price : $8,600 / (other rock options may cost more determining on the particular stone chosen.)
Sample C
Dimensions of Sample C (Pool Photo) : Top Height : 4'10" above the deck Width : Front Rock Coping width along pool edge = 12'3″ Top Flow Height = 32″ (single cascade, grotto style front) Depth : From pool edge to rear of feature = 10'5″ Cap Rock Price : Same as Sample A – $8,600
Note on Sizes & Cascades : No two waterfalls we build are exactly the same, and we are not so concerned with the number of cascades or the size of the waterfall as we are with the finished look. The number of cascades, as well as the drop heights are customized to create the certain kind of sound each customer is going for. Grotto fronts help to give more of a deeper sound than one with many mulit-layered cascades. Both are in the same budget range – again it is the look and sound of each that is customized for each individual.
Note on rear 'Soil Retention Wall Shouldering' : In the Sample photos B & C above; Sample B has a low elevated rear shoulder wall and Sample C does not. While the photos never really do full justice to the work, by lifting the soil levels in the bed around the waterfalls helps to settle in the look of the waterfall more naturally.
Sample B reflects a thin area we worked in, inside a porch screen. The backdrop of the soil elevation helped the height of each rock course blend in more naturally, than being close up with the rock standing at 5 1/2′ high above the surrounding ground and plant levels. Never seen a waterfall in nature where the rock of a stream or waterfall was not contoured in with the surrounding ground levels. Many companies do not even think about including this option to settle in the waterfall project… common sense to us. (Click here to go back to directory)
3) Style of Waterfall for You
THE STONE YOU CHOOSE & OUR COMBINED IMAGINATION: There's two simple main points in terms of the style of our designs – first – they are customized to the look you are going for . So if it's a soft, gentle cascade, a mountain creek style stream, or a jungly scene with crashing waterfalls that fill an area with sound – we can build them to suit any style.
The choice of stone / boulder you choose has a lot to do with the look, and here in Florida Cap Rock is the natural stone, the most inexpensive to supply and is commonly used. It's great for tropical scenes. For a northern scene – or any setting you may choose – we can provide photos / samples for you to choose from to help make a decision. The stone of choice is a major factor in the style of waterfall being built for you. So, if you're looking for ideas, have photos or magazine clippings of waterfalls you may like, in our Free Consultation – we will go through those notes you have, portfolios of our own – and generate new ideas as we talk about the potential scene. Any kind of waterfall, any style of rock – our limitations are the imagination itself when it comes to style and function.
THE SOUND OF THE CASCADES
The second main point that helps to create the style or look is the sound that you're going for. Plain and simple, each cascade, each 'bowl' that the water splashes into and out of produces a sound. The type of sound you are going for has a direct effect on how we think to build it. Like tuning an instrument, different length cords or different shapes produce different sounds, the same with the height of a cascade, the water flow strength, the surface or bowl it falls through, as well as shaping or chiseling the rocks to create a certain formation for a distinct sound.
In short, with your call and an appointment time set, have you're imagination ready, because no matter what the style or shape or sound, this work is truly an Art and each job is customized to each individual customer.
We look forward to the chance of serving you and creating one of the Most transformative projects people have done on their properties. Call Today for a FREE CONSULTATION & FREE ESTIMATE !