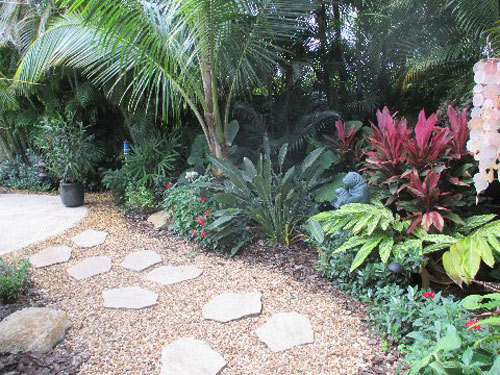 ---
This Article will be covering points of :
1) Function   2) Style   3) Considering the Attributes of the Property   4) Considering the Home's or Building's Architecture   5) Choosing a Relaxed or Formal look that can be done with any style    6) How lines affect people's sense and movement in a garden or area    7) Focal Points    8) Satisfying the 5 Senses     9) Budget
---
Helping to Plan for a New Landscape Design or Property Makeover : 9 Basic Points / Elements to Consider
Some Brief, Basic hardscape & landscape design points that apply to any new or renovation style chosen and any budget
1) Function
When dealing with the thoughts of a new landscape, hardscape design or a renovation, the first step in the process when working for clients is to think of the function and the style of the look they desire.
The thoughts of what you might desire may be very clear for some and others, they know they want something different, but aren't sure how to approach it or what may be possible. To help you envision of what may be possible is our specialty and to help with this, we've provided this brief article, detailing the basic points to consider to transform the landscape or outside living area.
We provide free consultations to those in our areas, and whether it is us sitting down together or you assembling your thoughts and plans, the first and most important thing is to try to envision how you may wish to use a space.
The landscape can play a great role in the tone, mood and atmosphere of a property and a home.  You can have a beautiful new pool put in but without the right setting that it sits in, the vista from inside the home can still feel lacking.
The landscape ties everything in the property together and the way a property is shaped, it's dimensions, how its shaded, how it flows and how the property or a vista may be framed, these can be very influential in how a property feels.
Beyond the framing and how it feels, the first question to address is how it is hoped to be used. This is the first point in this article for a reason, as we start with questions of what is desired first and work to fill in the blanks as we go.
This is the point to ask yourself questions. Think of a holiday or a big event with family and friends, entertaining at your home. Think of those great days and a tip, the more people like to be outside, the easier it is inside to serve that party. Sometimes the weather may be great and accommodating, sometimes not.
Are you thinking of covered outdoor spaces? Shading?
Important as well to consider when its just you and those who live there as well as those 'big days'. It should be comfortable for the everyday and if it can help accommodate the 'great days' , all the better.
Questions on Function to ask : 
How many may be sitting outside? Do we want to have lounge chairs, recliners, a fire pit seating area, a Hammock?
Does a swimming pool work into the plans, extending the patio?
Outdoor kitchen with an overhead structure such as a pergola, pavilion, tiki hut, or inside an existing covered porch and making more use of spaces we already have prepared?
Think of the furniture before establishing the size of a patio or a patio extension. Similar to trying on some clothes to make sure they fit before buying, arrange some chairs in the yard or deck area to make sure the area of the new patio will be the right size or big enough before installing a new deck. This one I can't stress enough. Many will expand a deck and plan on bringing in furniture without knowing if the new decking or patio is really going to be big enough for what they really are planning for.
It only takes a few minutes but can be a great help, to move some chairs into the yard to help envision & measure the use of a space. One of the better tips from this article I'll hope you'll find.
Your enjoyment later on will be benefitted by asking up front the simple question of How the function of how an area will be used or enjoyed?
I would encourage anyone planning a new space to give this some good thought. This may include thoughts of swimming pools, play areas, gardens,, open spaces, outdoor kitchens, shaded seating areas with pergolas or gazebos, framed vistas with relaxing spots to enjoy with seating or hammocks, firepits, or making the most of a view in the yard from a great vantage spot in the home. Walking step stones to help subtly or boldly lead a person from one area of the property into another space or 'room', these are all things this article to help with planning your new landscape or outdoor recreation areas should consider, and even if not a part of your project, the basics provided here we hope will give you some productive insight.
If you're in our area, we'd hope you'd appreciate our approach and wish to give us a call.
When considering function the same principles often apply in commercial uses as with residential at times.
With the front of a building, if it is a commercial landscape & hardscape design regarding parking areas and entries, you take into account efficiency and ease of use for walkways for the public, shading where possible, and accenting the building(s) or structure to fit the tone desired.  The  ease of entry into the front of a home is often overlooked in many houses as the way that driveways are built often have people walking across a bit of grass to get to their entry walk. You may enjoy viewing some photos of projects we've done to help open up the front of a home, and provide a more practical and more appealing entry.
One rule of thumb with function as for walking spaces is to respect natural walk areas. If yourself, or family , friends or guests typically will walk in a certain pathway – it may often be beneficial to provide a walk there, pavers, decorative stepping stones or other in that space. To make a walk area more stable is always a good idea, especially when considering anyone tripping possibly or twisting an ankle, etc. in a divot or uneven footing.
Shopping plazas may vary from minimal requirements to softened hammock designs. Hotels & Resorts can vary from a straight clean and framed appearance to transporting visitors into an 'escape' or 'retreat' type setting from the moment they enter the property with framed vistas and natural looking soil & boulder elevations, planted hillsides and streams that lead to the entrance way. The grounds of a resort, a condominium, a clubhouse or hotel again are much different than many other commercial properties, and the dimensions and layout of the property are geared toward the tone and mood desired, open areas for sun, shaded areas to relax and use of space to entertain.
Function – Residential : (FRONT) Thinking of the front entry to the home & how vehicles are parked 
When thinking of the function of the front of a home, as with any structure, should be to allow for an ease of drive and entry which is naturally addressed at time of construction. With new landscapes & renovation landscapes, if there is one thing we come across most in these areas is that we find clients needing to make adjustments to entry walks more naturally suited and driveways allowing to be a bit wider, or having aprons created so when a car is parked, people don't have to walk across a lawn or landscape bed to get to the entry; a little harder for some with heels. Also a point to consider is of course, the shape of the property, how many vehicles are using a driveway, and the dimensions (width of drive) to help accommodate easy access.
(BACK & SIDE YARDS)
Consider the views from inside the home as well as how everything will be used out doors. Look through the windows to determine the natural focal points of view from inside the house and make an effort to highlight those areas in the landscape & hardscape design. Make that a spot that people can gravitate towards with their eye or actually with seating, or an artistic piece, a fountain, structure or waterfall.
The view from inside looking out as a part of function, recognizing the areas the eye is drawn to outdoors and these natural focal points as an element to add to the feeling inside the home – because of 'the view'.
Many ways to make a great backdrop and many, many different approaches that can be done. It could be the arrangement or plantings , trees or with the center area of a pool layout for a few examples to complement. The main point, the view outside can also affect how the inside feels and it should complement the desired feeling of the home and atmosphere desired.
The back and side yards of a home, these are the points we look to lifestyle uses the most. The landscape & hardscape function design thinks of furniture and space requirements to suit the needs and desires of a your everyday and special day use. If designing in a pool, the placement of the pool should consider the views from inside a home as well as suiting the property. Addressing areas to make sure there is enough space for tables and lounge chairs for example, before the job is moved onto permitting. Creating sunny or shaded areas that are great for entertaining, parties, special events, or just creating a backyard and property that you'd love to have.
---
2) Style:
If you don't know where to begin with thoughts of the style, we take the approach that design is an art, and we begin in our consultations simply with pictures and imagining different settings for a start. We are never short on creativity, but the goal is to come up with a design that You desire, and our job is to help you visualize that before, and deliver it through our work.
Some may clip out or gather photos for magazines which is always a good aid. We have hundreds of categorized photos that we bring in our meetings; from project examples, larger view styles, to detailed, organized photos of plants, trees, palms and flowers.
The pictures, the colors and shades all tell a story. Like choosing the paints to use in a painting, the color tones you are attracted to, as well as the shapes of the leaves, and types of trees or palms that you choose all help to establish a tone for the setting. Often we may not you use your every choice that you pick out, considering placement and size of plantings, but collectively the choices help to determine the style and look that you are going for, with emphasis on the strongest reactions and focal points that steer the tone. Any can do this on their own, following the same steps, but in every job we do, we help to put these pieces together through our free consultation. Our goal is to provide you with the work, and making sure we are on track with the design, is just part of our job to help guarantee our customer's will love our work.
Some wish to talk about budget early on, but our approach is that if we can't come up with a design that you like, what difference is the cost ? Our first goal is to come up with a design that suits the look that you are going for AND THEN do our best to make it fit your budget.
For some with more elaborate projects, or complete design needs we also do provide plans at a charge, typically $200 for a residence for those requiring them drafted out, which we do on a 24″ x 36″ plan size. And if we are hired to do the project the plans are free and counted as a payment on the job. For many, we provide free small, simple sketches at the time of our consultation as part of our creative process.
Seems as you have the style chosen, the next thoughts in the design would look to function – how do you choose to use the area(s).
---

3) Considering the Attributes of the Property :
This has much to do with the dimensions of the property and how the home or building sits on it. Factors of the shape and grade of the property, if you may be dealing with undesired views outside of the property and sounds (traffic, etc.) , depending on where you live. Privacy plantings, sound privacy enhanced by water features, dealing with drainage problems or slope issues. Whenever we come across a property 'negative' we look at creating a positive where possible that makes that property more attractive and individually 'unique'.
---

4) Considering the home or building's architecture :
The exterior hardscape and landscape should always compliment the architecture of the home or building, while making the landscape look like it is a natural fit to compliment the home's design itself. (Using trees, palms or accents in the landscape design to compliment or balance peaks or angles of columns and roof lines where applicable. Shrubbery, palms, small trees or ornamental pieces should complement or reflect the lines of the windows, doors, accents of the house (1 story, 2 story or more).
The lines and materials of the hardscape and walkway also should be a part to harmonize with the architecture of the home or building, and angles or shapes in even rock or decorative brick retention walls if used, or boulder settings to ground stone bed shapes.
---
5) Choosing a Relaxed or Formal look that can be done with any style :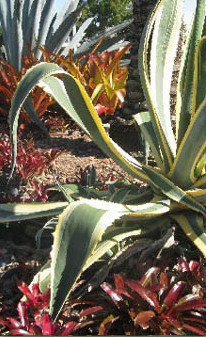 No matter the style of design chosen, from a formal contemporary or modern look, to the most laid back tropical or even jungly setting; formal or relaxed is a design style that can be accommodated. The choices are mostly in the lines of the beds and walkways, then lending to the tree or palm choices, and to the shapes the plantings will be kept.
For example, when choosing a formal design with a contemporary style, (or any design style), this is often accented by straight lines in the walk areas and reflected in the trees and hedge, flower groupings and shapes.
Straight lines or geometric shapes are a must in any formal landscape or hardscape design as they set a definite tone of order and efficiency. Repeating straight lines or geometric shapes in the hardscape, landscape and furniture to a degree are all ingredients which complement and present a reflection of the style throughout the garden or landscape.
*For a more relaxed look the lines of the walk paths, gardens, shape of the patios / decks in an outdoor entertainment area should be more curved and rounded. Very simple concept which makes a great difference in an areas look, curved or rounded lines suggests that an area is more of a relaxed invitation to take time through an area, where straight lines denote more for efficiency. walk ways, as in many business centers can suggest to simply reach the end of that walk to get to a door or another area, to get to where one is going. A curved line of a walkway or landscape bed is also more relaxing to the eye. And what the eye sees is picked up subconsciously in how an area feels when looking at it.
---
6) How lines affect people's sense and movement in a Garden;
Example – Paths:
With path way designs, depending on the shape and layout of an pathway or walkway, you can have an effect not only how a setting feels, but even how fast or slow people may tend to walk through an area. When a path is laid out in a straight line, people will tend to walk more directly through the area at a quicker pace, as the path simply suggests to get to where one is going (As in many business centers). If the path is curved and more meandering, people tend to respond to walking a bit more leisurely through the area (as in many resorts or park locations).
If the paths are thinned through an area – people will tend to speed up through that thinned walkway space. If the path is made a good bit wider in an area – people will tend to slow down through that wider walkway area.
How you can have an effect on how fast or slow people will typically move through a space. Creating spaces that will draw people to them or make them linger or move through has much to with the way you introduce them to an area with the lines and widths of pathways or the placement or shape of a patio for example .
On the influence of helping people relax in a great space in the property, along a path – If you place a bench or some chairs in an area that is exaggerated or enlarged, people will tend to Slow Down in these wider spaces. The more narrow, the more quickly people typically move through, the wider an area in a patio or even a walkway people will tend to slow down and relax more. These exaggerated and widened areas along a path, when placing a bench in such a space – people will typically tend to wish to sit there. The design can have an effect like an 'imaginary magnet' almost, helping to set the tone of how people feel in an area, and affecting their pace. And if you choose to open that space in a path and place a chair or bench or some seating area as a spot to relax, you have the opportunity to hold their eye and the view they will see for an extended time, and across from that spot – is a great spot for a Focal Point piece.
Not all properties have these offerings of course, but much can be made of little space. With smaller spaces, if the patio can be made to a size that can be sat in and enjoyed, great, the next step is to look at the space from where you're sitting and then dress up that natural focal point from the seating area. Depending on the property and vistas, this will of course influence what you can do.
---
7) Focal Points :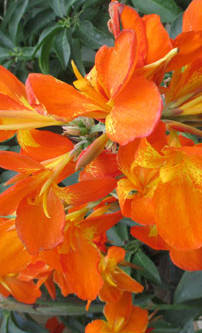 Rule of thumb – whenever you have an extended view, either from inisde looking out, or any view taken in from a seating area or a long path way, that view should be framed as best as possible. As an art, you are establishing a setting view and always a spot for framing the sides and a focal point well placed that will attract the eye in that scene. Whether it is an extended walkway with a beautiful blooming plant at the end of a straight or meandering path or offsetting a tree, a palm, a water feature or a sculpted piece or statuary for any extended view.
When considering focal points – it depends on the building or the home, and recognizing some basics that apply to different areas; such as the front door being the 'face of a home' and how colors should help to highlight that. Using colors in a design to move your eyes around a yard and help them to bring out the best in a property; for example knowing that the colors red or yellow attract the eye more than any other in a landscape, and using those or similar ones if chosen, to create a look that is full and has depth; no matter the perspective of the view or part of the property you are working on.
Balance and symmetry in a design applies to any style, from tropical, jungly landscapes to the most formal, contemporary design. Trees, statuary, the placement of waterfalls, the use of repeated colors, all play a factor in filling the view, making it look natural, and setting the stage for the larger focal points or main 'stars' of attraction in any project.
---
 8) SATISFYING THE 5 SENSES :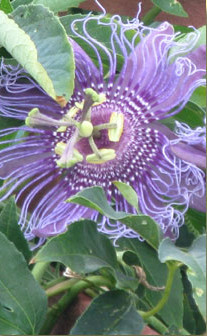 Simply consider the full effects a garden or landscape and hardscape can deliver by checking :
1) What you see of course – but also what you don't wish to see
2) Smell – if you like the smell of Jasmine's or Gardenia's are a great start to those who love a fragrant garden, Roses, herbs, lavender's – there usually isn't much of a middle ground commonly, many feel strongly either for – or against fragrances – if you're in the middle, I would suggest trying a little bit – and finding out if you like them. For people with bad allergies, good to usually stay away from these in the garden or landscape.
3) The feel, touch & 4) Taste – does the landscape or garden have unique conversation pieces in it, as in the tropical south something with a unique touch like a ,Teddy Bear Palm, for example just to name one – that has a shaft of the tree that actually looks and feels to the touch like an actual 'teddy bear'. Or a working vegetable or herb garden that can be productive and an asset to the kitchen and fragrance of the home, and offers a good therapuetic outlet for some. Taste – beyond the vegetable garden, fruit trees can be a nice compliment to a home and a nice little extra some realtors may say in a sale.
5) SOUND : Everything above is dealing with what you see – and what you see has a great affect on how an area feels, the last factor to make that landscape, hardscape, garden area complete, is to affect the sound that property has. From large waterfalls, to soft streams, smaller fountains or ornamental water pieces, even a backdrop to some properties with music from speakers, with the opportunity for some to enjoy the yard in a game, to sit down, walk through or kick back in a hammock – you take those points into consideration – and you have a pretty good shot at getting the kind of property, landscape, hardscape, outdoor garden you're wishing for.
Think of how you choose to use the area, if you have parties, how many people to entertain, laying out furniture before you determine the dimensions and measurements of your deck. (13′ – 16′ feet round usually good for many round table areas of 4 – 6 people). Think of drainage ! Consider those 'monsoon' type days and plan for them.
---
9) BUDGET :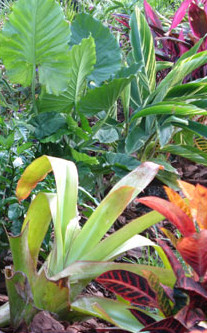 These points apply to ANY BUDGET RANGE. Consider professional help, if you're budget can't afford a landscape designer, then find out about how the plants and trees grow and their size 'at maturity'. And always plant for maturity. Know what you're planting before its in the ground and how large you expect it to be. The landscape is a 'living art' and most often – you can save a lot of money with some patience for material to grow larger. The smaller something is the less it often costs, compared to larger varieties. I will say a word about our services, one of the first things we try and determine is "the look", the second is "the budget".
Both are important factors in every project in one sense or another, and without respecting both, would be a mistake on our part. If you're not sure if your project allows for a designer, consider the sum you are thinking of spending, and then consider planting the wrong item or possibly being surprised at how affordable it can be to get a top quality design and a warrantied landscape job!
If you're budget allows for a landscape designer, contractor – then find one who is willing to help you get what you want as a goal, not what they want. Their role ( our role) is to serve you, and to help ensure that you are satisfied. This begins first by listening, taking notes and working first to get a feel for the look as well as the practical needs of the property and design. By showing examples, by being creative and trying to determine what you are looking for and with a focus on being easy to work with, helps us to maintain a high level of success with our customers as a goal on every job!
Take competing quotes, get a feel for who will go the extra mile and when you get right down to it, if you don't like the design, it doesn't matter what it costs don't waste your money. First thing of importance is the design – then make it work for the budget the best you can or do it in stages, the same way many do the interior of the home.
Hope this info helps some and if any are interested in how to make your landscape grow to a strong maturity from the time of new installation – onward there is an article on our website which covers :
WATERING & FERTILIZING GUIDELINES FROM THE TIME OF INSTALLATION THROUGH A SCHEDULE FOR LONG TERM MATURITY – HOW TO MAKE YOUR LANDSCAPE MORE XERO-SCAPED AND STRONG.
To find it you can visit our website at: www.universaldevgroup.com – then click on the 'Customer's Corner' Button on the top in the right column of the home page and click on the article titled "An Introduction to Your Landscape"
If you are in south florida, we would love to be of service if we can, if not, I sincerely hope some may gain something helpful from the above information, and wish you all the best with your project!